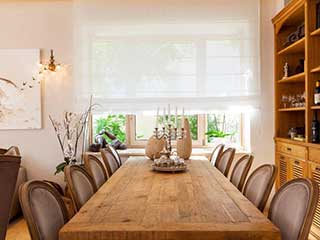 One of the most important things that window blinds do is maintain our privacy. You want your window treatments to protect you from harsh sunlight and glare, sure. But you want to also know that nobody standing outside can just peer in willy-nilly. That's why you need blinds and/or shades that provide a good - if not great - level of privacy. Well, how do you know what to choose?
Here's a short overview of the most popular choices for privacy maintaining blinds:
Blackout Blinds – For Top Protection
Surprised? We didn't think so. It makes sense that blinds specially designed to block out all sunlight also work great for ensuring privacy. After all, the two aspects go hand in hand. If you want to make sure no one can peer inside a room with the blinds closed, your best option is to install blinds that block the very thing that allows people to see. I.e. light! Blackout blinds can have all sorts of builds, from simple roller to Roman-style and various other designs. The main point is – the material and build allows blackout blinds to keep light out, as well as curious eyes when closed.
Vertical Blinds – Perfect For Larger Openings
If you've got wall-sized windows in an office board room, or a sliding glass door leading to your patio, then vertical blinds are going to work great for them in general. The vertical vanes are better at blocking sunlight for larger windows. That means they'll also be great for ensuring privacy. As we mentioned before, the amount of light that gets in directly correlates to privacy.
Blackout Curtains – an Old Style Choice
Yep, you don't have to necessarily get blinds if you're looking for privacy. Drapes and curtains made with blackout fabric can do an excellent job blocking sunlight when they cover the window. That means they'll also work great for preventing anyone outside from peering into the room. While not offering the same level of nuance as blinds, blackout curtains are incredibly popular for bedrooms and other places where sunlight blocking and privacy are the main goals.
Roman Shades – Better Than You Think
Many types of coverings have a thin build, but not so with Roman shades. These are usually made thicker than your average shades. That means that they'll be inherently better at room darkening. Ergo, better for privacy. Roman shades also have a timeless elegance that comes in many different types of styles. Their pleats have become a very popular décor enhancement, so the privacy benefits are more of an additional plus rather than the focus. Of course, with custom Roman shades, you can enhance this aspect quite a bit, but we'll get to that later.
Plantation Shutters – Another Great Choice
Yep, these window treatments make for one of the more popular options. Plantation shutters have both large slats and small door-like structures that you can completely close. That makes them a fantastic way to maintain the privacy of the room. You can have your plantation shutters made from all sorts of materials. This includes wood (and faux wood) as well as vinyl, PVC, and more.
The No.1 Key For Privacy With Window Blinds & Shades
While some types of window blinds will have better privacy and sun blocking features innately, that doesn't mean ruling out the rest. If you get custom blinds installed (our specialty, cough cough) you can choose any window covering you want. And you'll decide on the level of privacy they offer. The opacity of the material is the major factor which determines how good blinds are at maintaining your privacy. The darker and more opaque, the harder it'll be for someone on the outside to peer inside.
Consult With Beverly Hills-based Window Treatment Experts
If you want to make sure your new blinds offer the high level of privacy you want, simply schedule a free consultation. Tell us what you want to get out of your window treatments, and we'll make that a reality. You can get blinds, shades, and curtains (or shutters) made from all sorts of materials, in all sorts of styles. Contact the Beverly Hills Blinds & Shades team anytime to set up a free estimate and see what types of options you can choose.