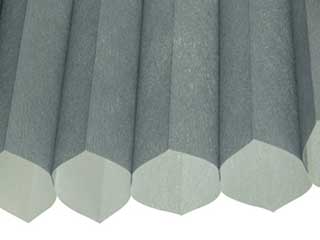 There isn't a shortage of options when it comes to choosing new window treatments. However, some have a lot more to offer than just light diffusing and added decor. Let's take cellular shades, for example. These beautiful coverings can offer you all sorts of benefits.
Some Added Insulation

Honeycomb shades have been gaining popularity over the last decade or so as people have discovered their many benefits. Easily installed and very stylish, these affordable shades make for a great investment. Their cellular nature provides a double layer of insulation on your windows. Whether you are looking for protection against the heat in the summer or the chill of winter, some extra insulation would be a welcome addition. Their cellular structure captures air, meaning that the outside temperatures will not affect your indoor temperature so easily.

Extra Noise Reduction

In addition to granting the room enhanced thermal efficiency, cellular shades also offer something else - reduced outside noise. The double fabric layers and the cellular pocket pattern allows these window coverings to filter noise as well as light. This makes them optimal for bedrooms and nurseries, where silence, privacy, and insulation are more pressing. After all, sound and light are both wavelengths of the electromagnetic spectrum.

A Range of Color Options

When choosing new blinds or shades for your home you shouldn't have to sacrifice style in favor of function. With this type of window covering, you don't have to compromise as the materials come in all sorts of colors. You can choose the right style and color to complement the surrounding decor. The eye-catching design is one of the main advantages of cellular shades, at least as far as interior fashions are concerned.

Convenient Operating Options

The original window blinds were once frustrating contraptions that would become mangled very easily with one wrong move. The lifting cords would get tangled or stuck and began to pose a safety risk to young children. With cellular shades, however, you can eliminate these outdated operating functions and instead have a collapsible set that can be easily drawn without a cord.

Some Well Deserved Privacy

The very nature of the honeycomb-like shape of most cellular shades provides a double layer between you and the outside world. Since the material is layered in this way you are given extra privacy when the blinds are closed. The added thickness allows for less light penetration. Of course, some types of fabrics will be more transparent than others, so the choice will be up to you.

Let's Not Forget About Light

Of course, the most important thing with new shades is that they actually block sunlight! Well, cellular shades are excellent at doing that. The thickness of the fabric makes them excellent achieving complete blackout, as long as they're made of the right material.
Contact Beverly Hills Blinds & Shades to have an expert come to your home and advise you on the different products that will best suit your needs. Give us a call today at 310-579-9127!