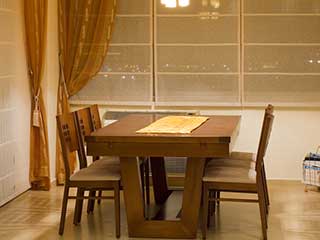 Modern and practical, Roman blinds seem like the window coverings of choice for both homes and offices. There's a good reason why so many property owners prefer these window treatments. They can give you complete privacy when lowered in the evening and your preferred amount of ambient light during the day. Beverly Hills Blinds & Shades offers a wide variety of design options, including semi-sheer Roman shades and ones that provide complete obscurity and blackout options.
So How Do Roman Shades Work?
These are essentially solar shades, with the ability to diffuse sunlight and offer UV protection varying according to the fabric. Roman shades are unique in that instead of rolling up the way many other coverings work, they fold onto themselves. This neat looking "trick" is actually very ancient. If the name Roman makes you think of laurel wreaths and togas, you hit the nail on the head.
If It Works For Caeser
Roman shades are made from high-quality fabrics that makes them durable as well as flexible. The folding nature of these coverings makes them an eye-catching decor addition to any room, even when drawn. Since the majority of the covering is made of fabric, the design options vary quite significantly and can match any type of decor.
Shades To Match Your Windows
The models in our range come in two different styles. The soft layered pleat is the classic option. It is beautiful and very classy, offering a unique appeal to kitchens and living rooms with a lot of ease. Alternatively, you can get Roman shades with a flat panel effect. They too have a great aesthetic appeal and will certainly make a great impression while also complementing the surrounding decor. The choice of colors is very vast, so even unique shading decorations can easily be complemented.
The Perfect Shades For Your Beverly Hills Home
You shouldn't worry about size when looking for new blinds. That's not to say that it shouldn't be a consideration. That's to say that YOU shouldn't worry about it. Leave that to us. Beverly Blinds & Shades offers custom made products to match your windows completely. Want to know more? Schedule a free consultation today and have one of our experts sit down with you at your home or office. Don't forget to ask about our professional installation services and our 5-year warranty.