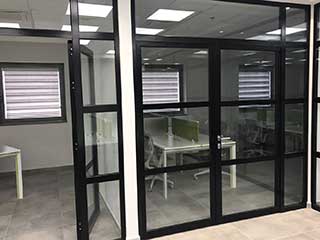 Window coverings aren't the first thing most people think about when setting up a workplace, but they shouldn't be the last! Whether it's an office, a clinic, or a restaurant or shop, a comfortable and inviting atmosphere is vital to keep clients and customers returning. Blinds and shades can help with that in a number of ways.
Aesthetics and Climate Control
Shades prevent an indoor space from looking too bare and plain, and if chosen carefully, they can also complement the rest of the surrounding décor to create a desired atmosphere. Perhaps more importantly, they allow you to regulate the temperature throughout the day by controlling sunlight levels, while relying less on electric lights and air conditioning; a money saver when it's time to pay electricity bills.
Visibility and Privacy
When the sun and clouds are just right, letting the natural light inside can help you put your customers or employees in a good headspace. When the sun is too bright, people aren't going to want to stick around unless you have a way of keeping it out of their eyes. For shops and bars, it also pays to have a way of letting potential customers see inside during opening hours, but hide any tempting inventory from would-be thieves when you're closed. Beverly Hills Blinds & Shades wants to help you with that, which is what our free consultation appointments are for.
Commercial Shades Of All Kinds
From Roman shades to sheer screens, from heavy duty synthetic blinds to light cellular ones, our range of products has no shortage of options to offer you. Businesses often have windows of especially large or irregular size compared to residential buildings, but with our custom designs you can order a product that's the perfect fit for whatever type of commercial place you run. Remember, creating a pleasant indoor ambiance is a great way to promote employee productivity.
Motorized and Hand Drawn
Nearly any of the shading styles available through us can be installed as traditional string-drawn shades, or with an electric motor controlled by remote, timer, or light sensor. The former option is perfect if you want customers or employees to be able to adjust the window coverings at will. The latter maximizes convenience and central control, and contributes to the automation of the room in question.
Order Your New Blinds Today
Contact Beverly Hills Blinds & Shades to consult with our experts about which window treatment options are going to complement your commercial establishment the best. Then, let us handle the shade installation process to ensure your new coverings are a perfect match from day one.