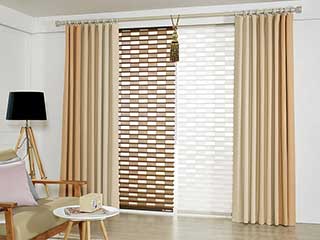 Have a window that could use some aesthetically pleasing, affordable, and protective covering? Our custom-made window curtains and draperies might be just what the doctor ordered! From blackout motorized curtains to all sorts of sheer drapes and valances. Learn more about curtains and drapes and see what type of window treatment works best for you. Bedroom curtains and office window drapes should have different qualities, after all.
Discount Curtains And Draperies
Beverly Hills Blinds & Shades prides itself on affordable custom window curtains installation and production. This allows us to provide custom window treatments to Beverly Hills home and business owners from all walks of life. With quality options such as vinyl, polymer, or canvas, your new curtains and drapes can stay durable without costing too much. Beverly Hills Blinds & Shades offers low prices on the typically costly satins and velvets. Your custom made curtains will be cheap, but not cheaply made!
Drapes vs Curtains
What are drapes and curtains, and aren't they being used interchangeably here? While the two are often used synonymously, they are actually different types of window treatments. Curtains range in length from just barely covering the window pane to reaching the floor. They're often made of thin and lightweight fabric, and slide and compress back and forth. Drapes are sewn into lined or pleated "panels" of much heavier cloth. They tend to be longer, more protective, and more aesthetically compelling.
Curtain And Drapery Rods
Window curtains and drapes both need something above the window frame itself to attach themselves to. Curtains slide back and forth along these rods on hoops, while drapes are hooked or sewn around them. You can't hang a covering over a window without one of these frames. That is why Beverly Hills Blinds & Shades offers custom curtain and drape rods in all sizes and styles. These pieces of infrastructure contribute to the decor, after all. The idea is to accommodate your planned drape or curtain sets.
Motorized Curtains For Home or Office Windows
The humble, relatively cheap curtain has one major advantage over more celebrated draperies. Namely, the lightweight and simple operation of a curtain make it much simpler to turn into a motorized system. You can control motorized curtains with the press of a button from across the room. You can also set your electric curtains to move at certain times of day or in response to light, heat, or movement. Motorized curtains make for a very convenient way to protect your privacy and utilize natural lighting. They leave no room for forgetfulness or other human error.
Custom Office and Bedroom Curtain Makers Near You
Curtains and draperies of all colors are available for you to order. From soothing blackout curtains for bedrooms to impressive valanced entryway drapes. You can customize the fabric choice, the color, the texture, and the design. Anything you want to create the look and feel you're after. The Beverly Hills Blinds & Shades team is always happy to help. Give us a call to get a free quote and to schedule a no-obligation consultation for free.