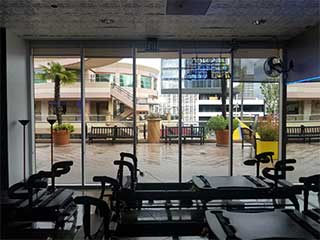 When you want custom sliding door blinds for your property, we're the experts you need. We offer high-quality custom blinds for sliding doors in almost any configuration you can imagine. From faux-wood rolling shutters to motorized vertical blinds, as well as curtains, shades, and drapes, we can provide anything you need. If you'd like to find out more, and get a free quote, our expert representatives are ready to provide in-person consultations. There's no fee, nor any obligation to buy. Simply get in touch today for a sliding door blinds consultation anywhere in the Beverly Hills area.
Blackout Curtains For Sliding Doors
Keep unwanted sunlight out of your home by choosing our high-quality blackout blinds. These window coverings offer ultimate privacy as well, ensuring that prying eyes will never make you feel uncomfortable in your own home. You don't have to compromise on aesthetics, though. Our blackout curtains come in many different styles and colors, so you can find the perfect ones for your home.
Low Cost French Door Blinds
Our range of blinds for French doors lets you find the perfect complement to any design. Our custom window coverings are designed to suit any property, with plenty of different options to choose from. No matter what size your French doors are, we'll produce blinds that fit perfectly, providing the high level of comfort and privacy that you deserve.
Affordable Beverly Hills Vertical Blinds
We offer a huge choice of different designs when it comes to custom vertical blinds. These are excellent sliding door blinds, and provide a convenient way to keep natural light under control. Whether you want wooden vertical blinds or fabric ones, we can help you pick out the perfect design. Our range includes many different colors as well, so the only limit is your imagination.
Great Deals On Patio Door Blinds
Patio doors often let in too much light and can be a source of frustration. Don't put up with discomfort in your own home. Simply browse our selection of top-quality patio door blinds. Whether you have a swinging or sliding door, blinds are a convenient and effective way to minimize unwanted sunlight. Our many different materials and emphasis on quality mean you can be sure of getting perfection.
Rolling Shutters In Beverly Hills
Our selection of custom rolling shutters gives you total control over natural light in your home. What could be better than quickly and easily cutting out dazzle and glare? Custom rolling shutters also give you a great opportunity to make your home look great, too. Invest in real wood rolling shutters to enhance your property's curb appeal. For the last word in modern-day convenience, why not choose motorized rolling shutters? These are more affordable than you'd imagine, and provide top-quality convenience around the home.
Free Quotes On Custom Blinds For Sliding Doors
Call us, set up a free consult (in-person) and tell our shading specialists what sort of covers you want for your screen doors or other glass surfaces. We service all areas near Beverly Hills. Call today to book a free estimate appointment.