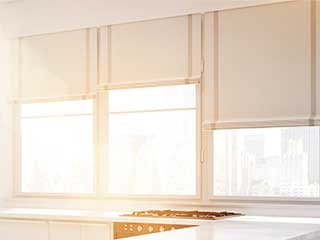 When you want to make sure your home is comfortable and private, blackout blinds are the best way to get what you need. Our selection of custom blackout blinds gives you total control over natural light, allowing you to easily cut out unwanted glare and dazzle from sunshine. In addition to this, the opaque materials we use ensure that neighbors and passersby can't look through the blackout blinds to see what's inside. You'll be able to relax, safe in the knowledge that your property isn't exposed to prying eyes. And we don't only work on windows. Whether you need French door blackout blinds or ones for sliding glass patio doors, we're the Beverly Hills-based window blinds experts to call.
Blackout Blinds For Beverly Hills Businesses
Any workplace can be improved by fitting custom blackout blinds. We recommend that you get blackout blinds installed on office windows to reduce eye strain and headaches. Many staff and employees complain about bright sunlight getting in their eyes. When we install blackout blinds in your office this problem will be much easier to control. This puts an end to discomfort in important meetings, which is just one of the many benefits our custom blackout blinds offer. Pick professional-looking high-end designs that won't hurt your bottom line. Speak with our Beverly Hills-based blinds installers today for a free estimate and personal consultation.
Residential Blackout Blinds
You'll be amazed at the difference the different blackout blinds we offer can make to your home. One common use for these products is blackout blinds for bedrooms. People want to feel secure in their bedrooms, and our blackout materials ensure that no light passes through. This also means that you'll have the option to have the lights on at night without worrying about being backlit. It also means that you won't be woken up by early-morning sunlight. This is perfect for anyone who works during the day, or who spends a lot of time traveling. Don't just imagine it. Our Beverly Hills-based representatives can come to you for a free consultation and will show you exactly how our cheap blackout blinds could help you.
Best Blackout Blinds Prices Around Beverly Hills
We offer cheap deals on every one of our blackout window treatment options. Not only do we provide a free consultation service across the local area, but our custom blackout blinds are affordable and so is our installation service. This makes it easy to choose excellent blackout blinds for bedroom windows, where you'll want privacy in particular. We cater to any window size and shape, in any location. That also includes making blackout blinds for skylights. With the sun beating down on you in the middle of the day, you'll definitely want something opaque to cover it. You can even add a real edge of modern convenience to any property with motorized blackout blinds. These are a brilliant way to get total control of natural light. And with both wired and wireless blinds, and a range of control options, we can provide everything your Beverly Hills property needs.
Get a Free Quote On Custom Blackout Blinds Today
Let us help you add color and utility to your home or business with our blackout window blinds collection. Meet with one of our experts here at Beverly Hills Blinds & Shades (we'll come to you!) and tell us what you're looking for in window treatments. We'll design and build a custom shading product for your needs, and then come back to install it on your windows and/or doors. Call to book a free estimate today!