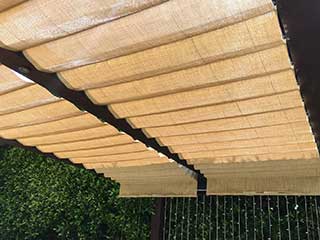 Get more use out of your patio when you fit it with custom patio shades. Our high-quality shades are designed to enhance the overall look of your property. Choose from a wide range of options which keep bugs and glaring sunlight out, without being difficult to use. Beverly Hills Blinds & Shades provides free consultations in your area, so if you'd like to see what we can do for you then get in touch. Take a look at some of the many patio shades we sell here.
Waterproof Outdoor Shades Protect Against Rain
An unexpected shower can quickly ruin any event. Whether it's a family barbecue or a few drinks with friends, a sudden downpour will put a stop to the fun. Our custom waterproof shades are the ideal solution. Thanks to our hardwearing materials which resist and prevent water penetrating into your patio, your guests and furniture will be safe from the rain. Of course, waterproof outdoor shades work just as well at keeping sunshine out as they do keeping water away, so you can easily take the edge off dazzling sunlight. Talk to our team based in Beverly Hills today to learn more about our custom waterproof shades.
Install Motorized Patio Shades For Modern Convenience
What could be better than patio shades that respond to the touch of a button? Remote control motorized patio shades are an excellent addition to any property because they make it as easy as possible to enjoy your home. No-one has to get up and go over to each shade individually. All you need to do is flick a switch, and your shades will be drawn to the perfect position. Installation is easy and straightforward and could cost less than you think. Why not get in touch with ou Beverly Hills team today to find out more?
Keep Comfortable With Overhead Patio Shades
Let in the perfect amount of sunshine by investing in custom overhead patio shades. When you choose a set of hanging shades for your patio, you'll find it easy to cut out unwanted sunshine. This can be perfect for sweltering days when you need a little cover from the sun. Using custom overhead patio shades lets you get the most out of your patio.
High-Quality Outdoor Shades Suitable For Any Beverly Hills Property
Choose patio shades as a quick, easy way to make your home better. Our products are designed to give you long-lasting protection from the sun, rain, insects, and much more besides. You could get much more out of your home by choosing a set of custom patio shades. Why not schedule your free consultation in the Beverly Hills area today?