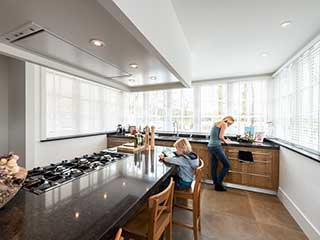 If you need help finding the perfect new set of window treatments for your home, our Beverly Hills team is ready to assist you! We have extensive knowledge on a huge variety of window coverings, which means that you'll get the best fit for your needs. Venetian blinds are one of the most popular styles, as they're easy to suit any room. They also come in an array of materials. This makes Venetian blinds customizable, and allows you to find a look at speaks to you! You can discover more about the options available for Venetian blinds right here:
Beverly Hills's Finest Metal and Wood Venetian Blinds
Your choice for material for your new Venetian window treatments depends a lot on your wants! Are you looking for the option that will fit safely inside of your budget? Metal blinds are the most affordable of the choices. Aluminum is also a less expensive choice, and are long-lasting as well. Do you want to avoid doing much maintenance on them? Vinyl Venetian blinds are quick to clean, as are PVC coverings. Wood is a gorgeous choice but will require attention to keep them looking their best. However, there are also faux wood Venetian treatments that aren't as expensive and don't require that upkeep.
Blackout Venetian Blinds
If you want more certain privacy, or are a light sleeper that's tired of outside lights waking you up, blackout Venetian blinds are what you need! This type of treatment will completely close out any sunlight, or otherwise. Especially thanks to our experts making each set custom, according to the measurements of your windows so they'll fit perfectly! There's also no set material for blackout Venetian treatments, so you're just as free to pick whatever suits your décor and needs. Blackout coverings are also excellent for nurseries to help keep your baby fast asleep, and stay that way without distraction
Electric Motorized Venetian Blinds
You may find it surprising, but motorized Venetian window coverings can go a long way in saving energy in your home! Especially if you choose the sensor option, which will adjust your blinds according to your settings on how much light is allowed in. This way, even when you're not around, your motorized Venetian blinds will keep out unneeded sunlight to keep your home cooler, and better regulate the temperature in general. This also helps keep furniture safe from sun bleaching!
The Best Venetian Window Coverings Around Beverly Hills
Our experts can't wait to help you find the perfect set of Venetian blinds (or other) for your home or business. With our free consultation, we'll assist you in looking over all the options, answer any of your questions, and ultimately finding the right fit for you. If you're searching for the best quality, and the finest prices, we provide the best blinds in the Beverly Hills area! Venetian or otherwise. Whether you're interested in Venetian blinds or want to hear about other styles that might be the perfect fit for your needs, you'll be glad you reached out to us. Give us a call and arrange a free consultation appointment to find out more about all the window treatment options.