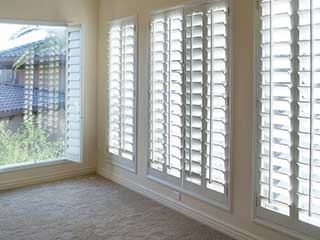 One of the best ways to improve any home is to add high-quality shutters. These coverings are not only an fantastic aesthetic enhancement, but they also protect your property from damage and dirt. Invest in a set of custom plantation shutters for your home and get the very best quality the market has to offer. Our range includes everything you could need, including exterior shutters and attractive materials such as real wood. Read on to find out more about the many different plantation shutters we offer.
Choose Plantation Shutters For Your Windows
What makes our range of custom plantation shutters such an excellent choice for your windows? Well, first of all, plantation shutters make a great addition to the design of any property. They add a real sense of elegance, which is impossible to replicate with any other window covering. Secondly, they're convenient. Plantation shutters are easy to keep clean, requiring only a light dusting or a wipe down now and again. They don't collect dust like other treatments can. When you factor in the many different materials plantation shutters can be made from, it's easy to see why they're such a popular choice for Beverly Hills homeowners.
Benefits Of Exterior Shutters
Although plantation shutters look great in any room, they're often also installed as exterior shutters. This adds real curb appeal to your property. It's also a very sensible choice from a practical point of view. Installing sturdy, reliable shutters on the outside of your windows protects them from dirt and debris. You'll have to do less work to keep your windows looking clean. These shutters can also make it harder for would-be burglars to break into your home, though they are not designed as a security measure.
Choose Wooden Shutters For Your Property
One of the most widely-used types of material for these window coverings is wood. It's easy to see why, since wooden plantation shutters bring many benefits. Wooden shutters are popular because they look magnificent, enhancing the look of almost any room. Of course, wood is also an efficient material for window treatments. It's strong and hard to shatter or crack, unlike some other materials. Wood can also be repaired relatively easily, which comparable materials like plastic cannot. Speak to one of our local representatives in Beverly Hills today to see how wooden shutters could enhance your home.
Plantation Shutters Are An Investment
When you install plantation shutters at your property, it's because you want long-lasting quality. These window coverings are a significant investment and are one of the few ways to easily add value to any home. If you're interested in finding out more about the benefits of our custom plantation shutters, we're more than happy to help. Get in touch with Beverly Hills Blinds & Shades today, and we'll arrange a time for a free consultation at your property.