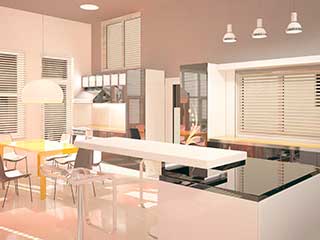 It is always a good idea to familiarize yourself with the major players in the world of window blinds before you go shopping. This will make it easier for you to find your way around the different models. It'll also help you recognize high quality much more easily. Let's take a closer look at some of the current industry leaders.
The Famous Hunter Douglas

Founded in 1946, this brand is one of the oldest and best-known shade manufacturers throughout the US and worldwide. Naturally, they'll have a very large product range. They specialize in making horizontal and vertical blinds and Roman, cellular and roller shades in a wide variety of designs, colors and patterns. The company places great importance on creating window coverings which contribute to the energy efficiency of the home or office and which are completely safe for small children.


Some Special Features

Their designers and engineers have come up with unique patented operating systems for window blinds and shades. These include the UltraGlide cord, which eliminates the use of dangling external cords, and LiteRide, which is a cordless system for opening and closing both blinds and shades. You can also opt for motorization of the window treatments so that you can operate them remotely via an app.

Bali Window Treatments

This brand has one of the largest selections of shades and blinds. You'll discover that there are dozens and often even hundreds of customization options for practically every model. Let's say that you consider Roman shades, for example. You can pick from flat and looped designs, some eighty different colors, various valance styles and loads of valance trims, which vary in both design and color. If you don't have a very clear idea of what you want, you can easily get lost. Bali offers a variety of window coverings designed to improve the energy efficiency of the property. You can get your new shades or blind motorized as well. This brings greater convenience and safety.

What Levolor Has to Offer

As a major manufacturer of window shades and blinds, Levolor offers a huge number of models for all types of residential rooms, from the living room and the bedroom to the nursery and bathroom. You will find one of the biggest honeycomb blind lines in their range. These window coverings come in various designs and offer different levels of insulation. The brand is also known for offering products which have received Best for Kids certification.