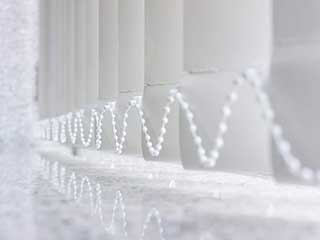 Your property needs the right window coverings to be comfortable. Vertical blinds are an excellent choice for any home or workplace. They offer the perfect blend of attractive design and effectiveness. Beverly Hills business owners and homeowners love vertical blinds, and they make a room more welcoming and comfortable to use. Our amazing range provides every option you could want. If you'd like to see how these coverings would look in your property, why not schedule a free consultation today?
The Best Vertical Blinds For Office Windows
Our selection of vertical window treatments is perfect for the workplace. You can find any combination of custom designs, colors, and materials. This allows you to create custom vertical blinds that suit any business. Our high-quality window coverings project professionalism and are a perfect fit in any boardroom or meeting room. As well as looking great, vertical blinds are a hit with employees because they keep uncomfortable sunlight out. You can ensure glare is at a minimum to avoid eye strain and headaches for your staff. With these advantages, it's no wonder vertical blinds in Beverly Hills are such a popular choice for office windows.
Affordable Vertical Blinds For Sliding Doors
At many homes in Beverly Hills, we find owners struggling to keep their sliding screen doors covered. This makes a room feel uncomfortable because it exposes occupants to bright sunlight. It's also a problem because if your window coverings don't keep out the sun, they also won't stop passers-by looking into your property. Maintain privacy and comfort at your home by choosing custom vertical blinds for your sliding screen doors. We offer a staggering selection of materials, including sheer, blackout, wood and vinyl vertical blinds. This lets you find the ideal solution for your home.
Custom Motorized Blinds
With all the benefits of vertical blinds, you'd think it'd be hard to improve on them. Well, surprise! Motorized vertical blinds can give you all the previously mentioned benefits, plus the joy of automation and high-tech motorization. Blinds with a remote control that utilize electric motors give you the option to control how much sunlight gets through your sliding glass doors or windows with tremendous ease. Our custom motorized vertical blinds can match your interior décor and fit perfectly over your patio doors and windows. You can use your smartphone to control them with Wi-Fi or have them operate with special temperature & brightness sensors. Get a free estimate on motorized vertical blinds
Free Quotes For Vertical Blinds In Beverly Hills
We offer plenty of different options for window coverings. There's nothing quite like seeing these choices yourself. Why not arrange a free consultation at your property with an expert representative? Our Beverly Hills team will show you exactly how custom vertical blinds could enhance your home. They'll also provide free quotes, so you'll see just how affordable our range of high-quality vertical blinds is. Simply get in touch with our local experts today to see what we can do to help you. Find out about the different materials (wood, vinyl, aluminum and even faux wood PVC) and the different light filtering levels (sheer to blackout) you can choose.