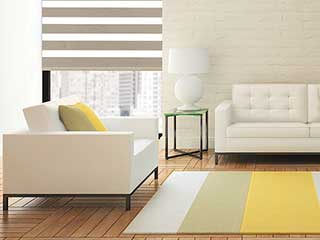 Two layers of shading, each divided into stripes of sheer solar fabric and darker, more opaque material, make up this sophisticated and lightweight modern window treatment. Beverly Hills Blinds & Shades' zebra striped layered coverings give unparalleled control over sunlight and opacity with minimal bulk and encumbrance.
The Zebra-like Pattern
Layered shades have what many refer to as a zebra-style pattern, because of their stripes of sheer solar shading and thicker, more light absorbent or reflective, fabric. This pattern both breaks up the light and prevents glare, and allows in enough filtered radiance to keep the room well lit. It's the same principle that rigid shades use, but with a much softer gradient and less harsh light in between the slats.
Benefits Of Adjustable Overlap
The two adjustable layers of striped fabric that layered shades have, when pressed tightly together, allow you to make the more light-permeable sheer sections as wide or as thin as you want. Match the dark and light stripes on both sheets to let in as much sunlight as possible, or cover each sheer section with a dark one to create a more protective screen that lets in only a little light and protects your privacy.
Light and Airy Shading
The thin fabric sections of layered shades allow air to move freely through the slats, provided the window panes behind them are open, and while you can adjust the amount of light that comes in it'll never be completely dark (unless you choose an especially opaque material for the darker stripes). The soft, filtered effect that comes through a layered shade set evokes cloud or forest cover; combined with the aeration, it makes for a very comforting natural ambiance.
Motorized Shade Versions Available
Our layered shades can come in hand-drawn and cordless varieties. Cordless shades are safer for children, more convenient for you, and actually more electricity-saving when it comes to preventing heating or cooling costs by preventing human error. Choose the control system that's right for your household or workplace.
Contact Beverly Hills Blinds & Shades Today
High quality layered shades are just a phone call away. Get in touch with us to schedule a free consultation appointment during which you'll receive all the information you need to make an informed decision.