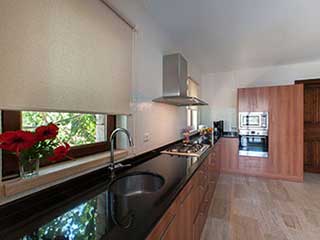 Roller shades are sometimes seen as the simplest option when it comes to window treatments, but simple doesn't have to mean boring! The coverings Beverly Hills Blinds & Shades can offer you take advantage of the user-friendliness and reliability of the roller design and spice it up with a range of added details.
The Benefits Of Roller Shades
Unlike most other types of window shade, rollers are bound inside the window frame on both sides. This means less chance of tangles, tears, and other issues, especially if you opt for motorized shades. Rollers are easy to use, readily customizable, and with the right choice of color and design they can be an active contributor to a room's decoration scheme, or understated fixtures that don't call attention to themselves.
Custom Made For Any Window
Owing to that same simplicity, roller shades are very easy to adjust to a frame of just about any dimensions. As long as it's square or rectangular, it's doable! These shades are available in all sorts of colors and designs, as well as different fabrics with varying visual textures and degrees of opacity and sunlight permeability. The elegant design and simple functioning of a roller system makes these shades some of the most versatile from both a design and a decorative standpoint.
So Many Options
Different sizes, fabrics, and colors aren't the only choices when it comes to roller shades. You can also opt for more elegant bamboo sheets or more protective plastic ones instead of fabric, and there's always the choice between hand-drawn and motorized rollers. There are so many choices you can make that it can almost be overwhelming: that's why the installation services Beverly Hills Blinds & Shades offers include a free consultation with our window treatment experts to help you pick the best looking and most convenient and protective coverings for your specific needs.
Get Your New Custom Made Roller Shades
Let Beverly Hills Blinds & Shades know what you're interested in and what types of designs you're looking for. Your new roller shades can be in place as soon as possible. There's no reason to wait! Contact us today.