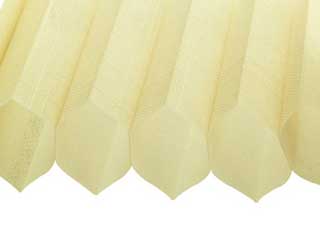 These shades are cleverly designed to combine the aesthetic value of Venetian style blinds with intricately engineered thermal insulation. Cellular shades will cover your windows and save you money on air conditioning and heating all at the same time.
The Heat Window
On average, most houses gain or lose one third of their natural heat through the window surfaces. Even when your windows are closed, glass is thin and thermoconductive enough to heat up or cool your house much faster than the walls do. While any opaque window treatment will keep out sunlight and reduce overheating, most don't do much to prevent convection from the air outside, and fewer have a significant effect on heat leaving the house and causing unwanted cooling. That's where cellular shades come in.
Cellular Air Insulation
Cellular shades are made of hollow synthetic tubes full of air. This extra, trapped layer of air traps heat coming from either direction and slows the descent into thermal equilibrium, making your house stay warmer when it's cold outside and cooler when the sun is beating down. These shades can be made with one, two, or three layers of hollow tubes, to provide more and more of a thermal barrier between the windowpane and the air in the room. Because of the layered hollow tube structure, these cellular coverings are sometimes called "honeycomb shades." When it comes to temperature control, nothing saves on your electricity bills like them!
Styles and Varieties
Most cellular shades open and close by collapsing their tubes and flattening them together, which means that they're ideal for "top down' designs that let you close them upward or downward as you prefer. More sophisticated styles mix the cellular tube shade with other, more aesthetically focused, types of window treatment to create a more aesthetic twist without ruining the thermoregulation perks. Cellular shades can be attached to rollers, or strung up like Roman shades to create folded pleats. Our custom made cellular shades can be made in their hybrid styles.
Contact Beverly Hills Blinds & Shades Today
Cellular shades are ideal for homes and businesses of any kind, and are a lucrative investment. Book a free consultation today to learn more about these window treatments and whether they're the best covering option for your needs.