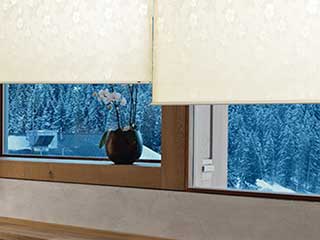 So why should you go with motorized shades? Well, the answer can seem obvious to many, but let's present some arguments in favor. If safety is a concern, as is often the case in nurseries or with small children in the house, then one of the best cordless options is to simply automate the operation of the shades. Another major benefit is convenience. Pushing a button to control the window coverings couldn't be any easier. Unless it was done telepathically, maybe.
What Kind Of Shades Are Available?
That's really up to you. Roller shades tend to be a very popular choice. This refers to fabric window treatments that start out in a roll before unfurling cover the window. The cloth makes them particularly customizable in terms of color and pattern. It also allows you to choose from complete blackout shades or various other light filtering options. Of course, every type of shade can be motorized. This includes pleated Roman coverings as well as cellular and sheer shading options. No matter how oddly shaped the window, your new motorized shades will be custom made. That means they'll be able to cover the glass completely.
Easier and Safer To Use
Motorized shades are ideal for making your home that much more convenient. You'll be able to easily block out the light to watch a movie or play a video game, and then open them back up again when you're finished, without moving an inch. The timer option also gives the added benefit of extra convenience and even extra security. Even if you're not home, having the shades set on timers to move gives the impression that someone is home and may help to deter burglars. It will also help you maintain a pleasant ambiance while you are home, adjusting to the amount of outside sunlight via the timed settings or a special sensor.
Take The First Step
There's a range of products that can be automated. From faux wood blinds to layered shades and more. Beverly Hills Blinds & Shades uses motors and controls from the industry's leading brands, including Somfy, so the reliability of our motorized shades is guaranteed.