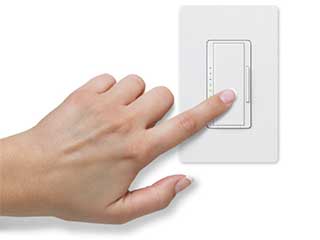 Lutron offers a great way to capitalize on the advanced technological solutions of motorized shades. You can choose sets of window coverings that bring not only aesthetical looks, but energy efficiency as well. Lutron shades give you a huge collection to choose from, with sheer or blackout window shades to suit any room's needs. With motorized shade solutions, Lutron lets you choose the control method you want. From dimmers and handheld remotes to switches on the wall and even smartphone connectivity via Wi-Fi. Lutron shades, motorized with silent operators, give you the perfect improvement to décor and functional shading at an affordable cost. Helping customers find the best Lutron shades for their Beverly Hills properties brings us great joy. If you need help finding custom made motorized window shades for any home or business, you can get a free estimate to see what's available and viable.
Smart Motorized Shades – Lutron Controls
With innovation comes great convenience, and Lutron shades certainly bring that to the table. From elegant wall switches that blend into the décor to different types of dimmers and even Wi-Fi remote controls. Lutron shades with silent motors let you create not only a great aesthetic but the perfect indoor climate too. You can utilize these motorized shades by Lutron to improve energy efficiency. Reduce or increase the amount of sunlight streaming inside and control the temperature as well! With blackout shades, you can gain more privacy and create ideal conditions for sleep. Want to diffuse sunlight? Sheer Lutron shades give you the ability to soften light and reduce glare, without eliminating all brightness. Getting custom made Lutron shade solutions for your Beverly Hills residence or for a business property provides effective and efficient solutions that pay back dividends on energy savings.
Best Beverly Hills Lutron Shades Source Near You
From beautiful designs and colors to different motorization methods and smart controls, Lutron shades give you a great range of customizable choices. Find out more about the different options and choose the features and aesthetics you want for your new smart window covering solutions. How? By booking a free estimate with our Beverly Hills motorized Lutron shades installers. Get all the information you need and see all the variety available to choose from!